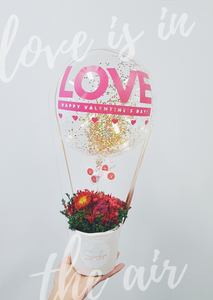 SPACE Ships - Hot Air Balloon
Regular price $59.90 Sale
SPACE Ship is made with customized balloons and natural dried flowers. 
Customize your own message on the balloon to surprise your loved ones.
Approx. size [20cm x 30cmH]
Self Collection
ITE College Central, 2 Ang Mo Kio Drive, Lobby D, Level 2,
Enterprise Development Centre #d201h
Singapore 567720
10.30am - 6pm (Mon - Fri)
- Delivery will be extra $30 for all amounts  (1 day advance notice is required)
Social Media
Instagram : starshipsballoons
Facebook : starshipsballoons 

Please allow 2-3cm difference due to manual measurement. Each bouquet may vary slightly due to our selection of balloons, dried and artificial flowers' availability. We reserve the right substitute with suitable materials at our discretion.