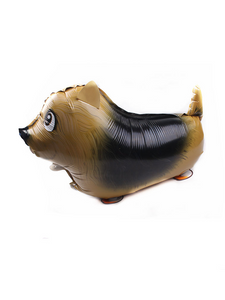 Walking Terrier
Size: 60 x 45 cm
Walking Animal Balloons (with helium) - $ 9.90 each
Walking Animal Balloons (flat pack) - $ 7.50 each
Do note that helium balloons to be recommend to be collected on the event itself for better quality.
Self Collection
1. Capitol Piazza, 13 Stamford Road, B1-18 Singapore 178905 
Opening hours: 11:00am - 8:30pm (Daily)
or
2. ITE College Central, 2 Ang Mo Kio Drive, Lobby D, Level 2,
Enterprise Development Centre #d201h
Singapore 567720
Opening hours: 10:30am - 6pm (Mon - Fri)
- Delivery will be extra $30 for all amounts  (1 day advance notice is required)
Social Media
Instagram : starshipsballoons
Facebook : starshipsballoons
Please allow 2-3cm difference due to manual measurement.
- Inclusive of Strings and Exclude Weights.